Madrid
Spain's capital is a bustling city where sleep takes a distant second to partying. Despite this, we sent motoring journalist James Mills in search of another secret circuit.
If you believe all you read in the tourist guides, Spain's capital was never all that much to write a postcard home about. It was awarded its status in 1561 by King Felipe II. But the has-been city has now been revived into one of Europe's most energetic playgrounds.
Cruising through the heart of Madrid's Chueca district, the beautiful people all around us, we'd have to concur. The clock clicks from 01.59 to 02.00, and even though it's not the weekend, there's no sign of the Madrileños calling it a night. Bars are heaving, pavements are bustling and smiles radiate enthusiasm every which way you look.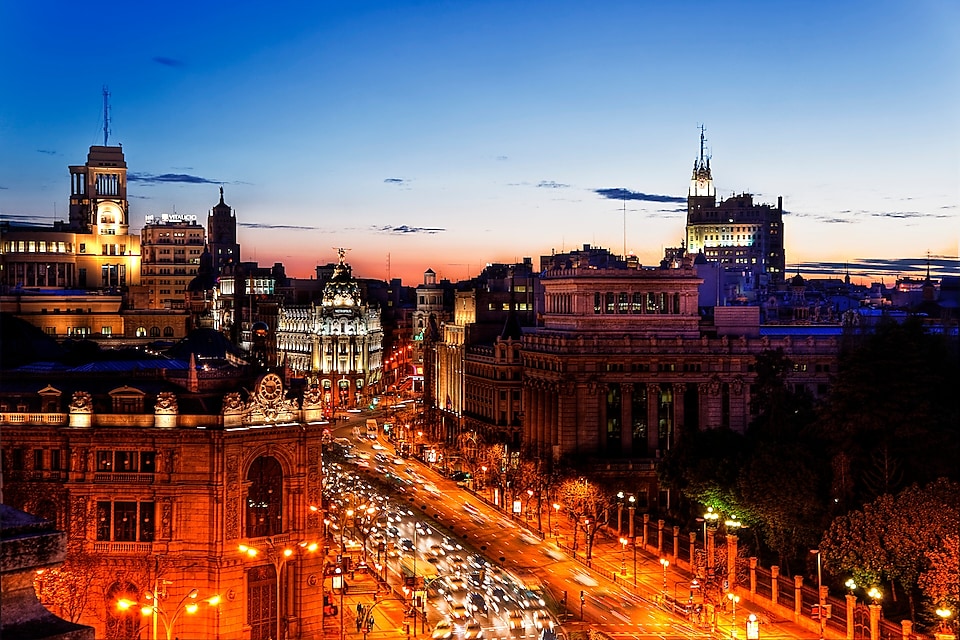 Spanish Shuffling
In the warm air, the crowds around the Chueca and Centro areas do the 'shuffle'. Not content with staying put, they flit between bars and crowds in search of the warmest embraces, tallest tales and funkiest vibe. We're shuffling ourselves. Madrid's reputation for traffic is legendary and, even now, in the small hours of the morning, with another working day ahead of it, the city is out in force on the roads. Time to take a detour.
These streets are hemmed in and kink one way then the next, but they're mercifully free from people and other traffic. Like a water slide firing us out into a filled pool below, when the lanes finally give up twisting and turning, they spit me out into the glorious sight that is the Plaza Mayor.
A signature of how powerful a nation Spain once was, the imposing 17th-century square's buildings stand tall and proud, with the central statue of King Felipe III staring down at us disapprovingly. Fortunately, no one else is about and we flit around the cobbled square exploring each of the nine archways.
Madrid's Subterranean Solution
Navigating our way out, we skip through the traffic and head north to catch sight of Arco de la Victoria, before the grind of traffic continues. As we found before with the labyrinth of side streets, where there's a will there's a way round Madrid's traffic chaos.
In this instance, we dive below ground into another world buried from sight. It's a vast network of tunnels with some roads stretching out seven lanes across, dubbed the M30 project and aimed at easing the ever- expanding city's gridlock issues. Exploration of this subterranean driving mecca could be a day's drive in itself.
When daylight comes, we just have time to take in the majesty of Palacio Real before plotting our escape route. Gunning the engine one more time, we head for the low-rise hills north of the city. The roads en route are as smooth, fast and sweeping as Madrid is crammed, chaotic and slow – you can't help but drive them with a great big grin on your face. That's the kind of party we like.