Zhangjiakou City Transport and Shell New Energy Co., Limited Formed to Develop Hydrogen Value Chain
Nov 13, 2020
This is a joint press release by Shell (China) Limited and Zhangjiakou City Transport Construction Investment Holding Group
Zhangjiakou, China, November 13, 2020 – Zhangjiakou City Transport Construction Investment Holding Group Co. Ltd. (ZJK JT) and Shell (China) Limited as the largest and second largest shareholders announce today to form a joint venture Zhangjiakou City Transport and Shell New Energy Co., Limited in Zhangjiakou, Hebei Province. Through the new joint venture, the two parties will invest in building a 20 MW renewable power-to-hydrogen electrolyser project and hydrogen refueling stations in Zhangjiakou City to support the development of hydrogen and clean energy industry in the city and Beijing-Tianjin-Hebei region. Guo Ying, vice mayor of Zhangjiakou, Sun Jiannan, President of ZJK JT, Zhang Xinsheng, Executive Chairman of Shell Companies in China attended the signing ceremony.
Signing ceremony held in Zhangjiakou, Hebei Province on November 13, 2020
Sun Jiannan, President of ZJK JT said: "ZJK JT's main responsibilities are investing, developing, constructing and operating Zhangjiakou City's transportation infrastructure projects, as well as building and investing in 2022 Winter Olympics transportation infrastructure projects in the city. We welcome Shell to bring their expertise in hydrogen, which will help Zhangjiakou's green energy development and energy transition. I look forward to the win-win cooperation and mutual development with Shell." City of Zhangjiakou is planning to use renewable power for the Olympic stadiums and to deploy 1,000 buses and trucks to serve this international sports event.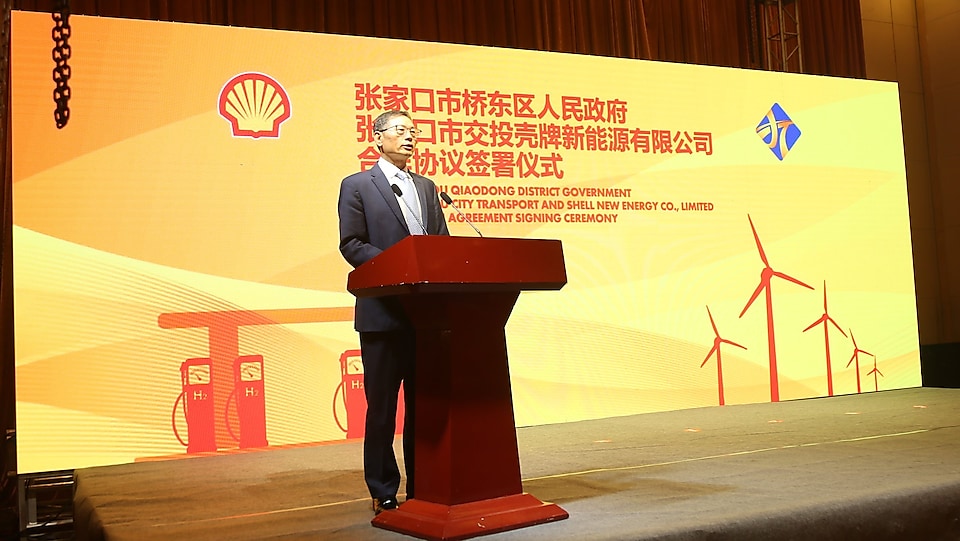 Zhang Xinsheng, Executive Chairman of Shell Companies in China giving a speech at the signing ceremony
Zhang Xinsheng, Executive Chairman of Shell Companies in China said, "Hydrogen plays an important role in energy transition. Zhangjiakou City has established a rather complete policy guarantee system for hydrogen development, and the rich renewable energy resources here can provide the electricity needed for zero-carbon hydrogen production, supplying clean energy safely in the Beijing-Tianjin-Hebei region. We are excited to work with local government and our business partners to develop an integrated hydrogen value chain covering hydrogen production, storage, transportation, refueling and applications, supporting Zhangjiakou's application as a Hydrogen Fuel Cell Vehicle Demonstration City. This is the first commercial project for Shell Hydrogen in China. We are proud to be supporting projects like this, which align with China's 2060 carbon-neutral ambition and the vision of building a Beautiful China."
Notes to Editors
Zhangjiakou City is only 180 kilometers away from the city center of Beijing and has a superior geographical location at the junction of Beijing, Hebei, Shanxi and Inner Mongolia. Zhangjiakou City is rich in renewable energy resources such as wind and solar energies and has been identified as China's first and only Renewable Energy Demonstration Zone since 2015. As the co-host city of 2022 Winter Olympic Games, Zhangjiakou city is tasked to provide "green energy" and "green transportation" for this event, and hydrogen has become the strategic development direction in Zhangjiakou's new energy industry.
Hydrogen is a clean and versatile energy carrier. Hydrogen fuel-cell electric vehicles take only a few minutes to refuel and produce no greenhouse gases from the exhaust. With the hydrogen produced using renewable energy such as wind, the fuel produces no emissions across its life cycle. An 10MW electrolyser can serve the fuel requirements of up to 500 fuel cell vehicles. Shell helped build a hydrogen refueling station in Anting, Shanghai in 2007.
Globally at end 2019 Shell has invested $2.3 billion in New Energies including power and new fuels.
Enquiries:
Elvina Dong
Head of China and North Asia Media Relations
elvina.dong@shell.com

Derek Zhang
Shell China Spokesperson
derek.d.zhang@shell.com
Jessica Miao
Shell China Spokesperson
jessica.miao@shell.com
Li Hua Jun
Zhangjiakou City Transport Construction Investment Holding Group
25423819@qq.com

Cautionary Note
The companies in which Royal Dutch Shell plc directly and indirectly owns investments are separate legal entities. In this press release "Shell", "Shell Group" and "Royal Dutch Shell" are sometimes used for convenience where references are made to Royal Dutch Shell plc and its subsidiaries in general. Likewise, the words "we", "us" and "our" are also used to refer to Royal Dutch Shell plc and its subsidiaries in general or to those who work for them. These terms are also used where no useful purpose is served by identifying the particular entity or entities. ''Subsidiaries'', "Shell subsidiaries" and "Shell companies" as used in this press release refer to entities over which Royal Dutch Shell plc either directly or indirectly has control. Entities and unincorporated arrangements over which Shell has joint control are generally referred to as "joint ventures" and "joint operations", respectively. Entities over which Shell has significant influence but neither control nor joint control are referred to as "associates". The term "Shell interest" is used for convenience to indicate the direct and/or indirect ownership interest held by Shell in an entity or unincorporated joint arrangement, after exclusion of all third-party interest.
This press release may contain forward-looking statements (within the meaning of the U.S. Private Securities Litigation Reform Act of 1995) concerning the financial condition, results of operations and businesses of Royal Dutch Shell. All statements other than statements of historical fact are, or may be deemed to be, forward-looking statements. Forward-looking statements are statements of future expectations that are based on management's current expectations and assumptions and involve known and unknown risks and uncertainties that could cause actual results, performance or events to differ materially from those expressed or implied in these statements. Forward-looking statements include, among other things, statements concerning the potential exposure of Royal Dutch Shell to market risks and statements expressing management's expectations, beliefs, estimates, forecasts, projections and assumptions. These forward-looking statements are identified by their use of terms and phrases such as "aim", "ambition", ''anticipate'', ''believe'', ''could'', ''estimate'', ''expect'', ''goals'', ''intend'', ''may'', ''objectives'', ''outlook'', ''plan'', ''probably'', ''project'', ''risks'', "schedule", ''seek'', ''should'', ''target'', ''will'' and similar terms and phrases. There are a number of factors that could affect the future operations of Royal Dutch Shell and could cause those results to differ materially from those expressed in the forward-looking statements included in this press release, including (without limitation): (a) price fluctuations in crude oil and natural gas; (b) changes in demand for Shell's products; (c) currency fluctuations; (d) drilling and production results; (e) reserves estimates; (f) loss of market share and industry competition; (g) environmental and physical risks; (h) risks associated with the identification of suitable potential acquisition properties and targets, and successful negotiation and completion of such transactions; (i) the risk of doing business in developing countries and countries subject to international sanctions; (j) legislative, fiscal and regulatory developments including regulatory measures addressing climate change; (k) economic and financial market conditions in various countries and regions; (l) political risks, including the risks of expropriation and renegotiation of the terms of contracts with governmental entities, delays or advancements in the approval of projects and delays in the reimbursement for shared costs; (m) risks associated with the impact of pandemics, such as the COVID-19 (coronavirus) outbreak; and (n) changes in trading conditions. No assurance is provided that future dividend payments will match or exceed previous dividend payments. All forward-looking statements contained in this press release are expressly qualified in their entirety by the cautionary statements contained or referred to in this section. Readers should not place undue reliance on forward-looking statements. Additional risk factors that may affect future results are contained in Royal Dutch Shell's Form 20-F for the year ended December 31, 2019 (available at www.shell.com/investor and www.sec.gov). These risk factors also expressly qualify all forward-looking statements contained in this press release and should be considered by the reader. Each forward-looking statement speaks only as of the date of this press release, November 13, 2020. Neither Royal Dutch Shell plc nor any of its subsidiaries undertake any obligation to publicly update or revise any forward-looking statement as a result of new information, future events or other information. In light of these risks, results could differ materially from those stated, implied or inferred from the forward-looking statements contained in this press release.
We may have used certain terms, such as resources, in this press release that the United States Securities and Exchange Commission (SEC) strictly prohibits us from including in our filings with the SEC. Investors are urged to consider closely the disclosure in our Form 20-F, File No 1-32575, available on the SEC website www.sec.gov