Shell becomes the official partner of Chinese Super League
Feb 27, 2017
Shell China Lubricants and Retail have teamed up and signed a three-year sponsorship agreement with Chinese Super League in Beijing. Shell is now the official partner of China's top-flight football league! This sponsorship is one of our many initiatives to further build a "Leading Brand", one of the Five Key Elements that enable us to win the external competition. It will give us a valuable opportunity to get closer to Shell China's 2025 brand vision: to become the most preferred international brand in China's energy sector.
A stupendous ceremony saw Shell score a 3-year partnership with Chinese Super League, the top-flight professional football league in the most populous country. Shell China's lubricant and retail businesses teamed up to become the official partner of the CSL on Feb 27th, 2017. The signing ceremony reached its climax when Shell business leaders joined hands with CSL officials to initiate a dazzling visual launch of the partnership. Shell China's lubricant business has been sponsoring the CSL since 2014. This time, Shell retail steps in, creating an alliance, endeavoring to fuel the passion of Chinese football fans.

China has the world's largest football fan base. Average attendance of each CSL match has topped Asia and ranked 6th in the world. Hundreds of millions of people watch the CSL games on TV or Internet each season. The official partnership with CSL provides a perfect springboard for Shell China to potentially penetrate deeper the world's biggest market for energy products.

Shell has clinched the top spot of the world's leading lubricant supplier for consecutive 10 years. Shell is also the leading fuel retailer globally. In China, Shell is the foremost lubricant manufacturer and marketer among IOCs. Retail China is in the dominant position among international fuel retailers too. The two pillar businesses of Shell China have made robust plans to drive growth. Sponsoring the Chinese top-tier league will allow Shell to communicate with more fans and customers.

Currently, there are 16 CSL teams from 15 major cities and provinces. Shell distributes and markets its lubricant products across the country; Shell operates over 1,200 retail sites in 13 municipalities and provinces. The locations of CSL teams match well with Shell's business footprints. Strategically, there are tremendous opportunities for Shell's lubricant and retail business to thrive by leveraging the CSL platform.

James Shen, VP, Shell Lubricant, Cluster GM, China Mainland and Hongkong, says:" Shell is excited to partner with Chinese Super League and to ignite the passion of this sport. The sponsorship has been quite successful since 2014. Shell commits to providing our best products and services to Chinese football fans and more customers. More significantly, the CSL sponsorship is an integrated effort by Shell China lubricant and retail. Together, we will make greater achievements by utilizing the CSL platform. "

Rebecca Chan, VP, Retail China says:" Shell never stops pursuing excellence. For over a century, Shell has been one of the pioneers leading the R&D of energy products, including lubricants and fuels. Shell's pursuit of excellence matches perfectly with the essence of football and the spirit of footballers."
"Shell is a great Fortune 500 company. We're excited to expand the partnership with Shell. We are thankful to our sponsors like Shell, who have made their contributions to this beautiful game." Says Ma Chengquan, CSL Commissioner.
Each CSL season starts from March and ends in October. Shell China lubricant and retail will interact with football fans and customers via ATL and BTL activities throughout the season.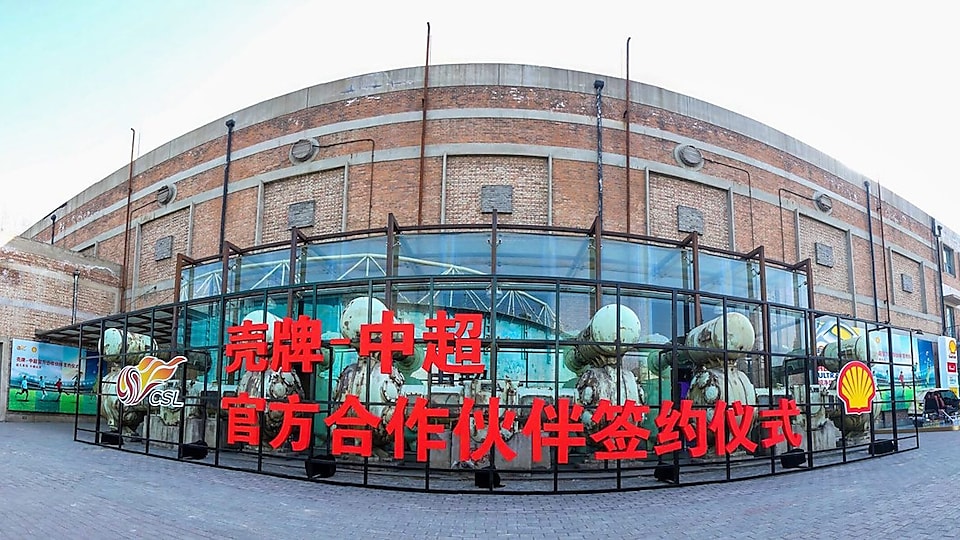 Outdoor scene of signing ceremony
James Shen, VP, Shell Lubricant, Cluster GM, China Mainland and Hong Kong gave speech on the stage
Rebecca Chan, VP, Retail China gave speech on the stage
Shell China business leaders and CSL officials initiated the signing ceremony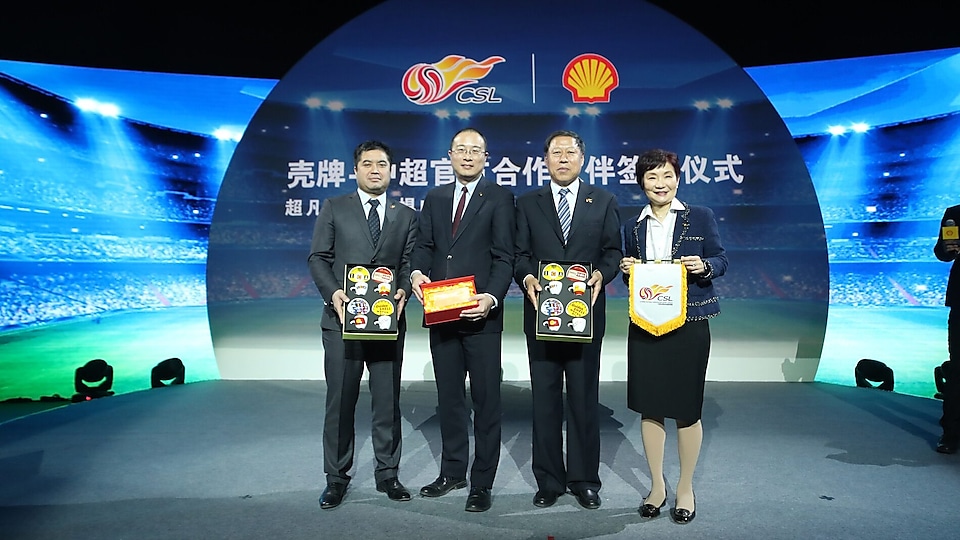 Exchanging gifts on the stage